Contact this business
9 Fairlawn Road, Busselton WA 6280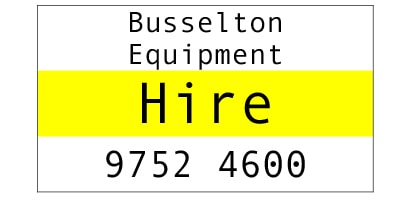 10% discount off all trailers and lawn care products
Conditions of offer:
All items are subject to standard hire terms, must be returned clean and full of fuel where applicable.
Welcome to Busselton Equipment Hire.  We have over 100 different types of equipment for hire under including:
Trailers
Garden
Concreting
Renovation
Saws
Heating
Generators
Compaction
Earth Moving
Pumps
Pressure Cleaners

Demolition
Scaffolding
General Tools
Acro Props
Compressors
Laser Levels
Core Drills
Bobcats
Trucks
Access
Spare Parts
Did You Know
Our equipment is of the highest quality and regularly serviced, so you can get your job done right the first time without having to worry about faulty equipment.
Here at Busselton Equipment Hire we don't just do equipment hire, we also do trailer servicing, modifications and repairs including the undercarriage of your caravan.
This offer is only available to valid Local Advantage members