Contact this business
Margaret River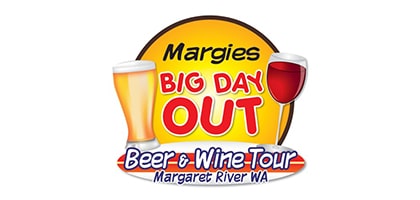 15% off all beer and wine tours.
Prices subject to change. Full terms and condition on our website. wwwmargaretrivertourswa.com.au
This is the Margaret River Region's Big Day Out! The only beer and wine tour of it's kind to visit 2 breweries in the region!
Jump on a full day tour and visit 7 venues including 3 wineries, 2 breweries and the cheese & chocolate companies.
Included in the cost of the tour is pick up and drop off to your accommodation, beer, wine & cider tastings, plus a delicious lunch prepared and served at a local brewery! It is sure to feel like a fun day out with friends, rather than a restricted regular tour!
DON'T FORGET TO TRY OUT OUR BRAND NEW TOUR – MARGIES BIG NIGHT OUT which runs every Friday night! With a late start of around 2.30pm, visit 5 venues including 2 wineries and 2 breweries. Cost includes tastings, and dinner, pick up from your accommodation and we drop you back to your door safely at the end of the night! Enquire today for more details!
We are more than happy to organise private charters or take group requests of particular places you would like to visit.
Check out some of our fantastic reviews on TripAdvisor. We are currently #2 attraction of things to do in the Margaret River Region. Jump on board and check out what all the fuss is about!
Awards
2013 certificate of excellence – tripadvisor
This offer is only available to valid Local Advantage members