Contact this business
6/9 Albany Highway Albany WA 6330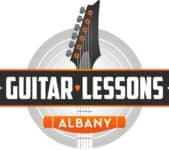 Local Advantage Exclusive Offer
50% your first month of guitar lessons and 5% discount thereafter
Offer Conditions
Not to be used in conjunction with any other offer.
50% off applies to both the tuition and materials for the first month of guitar lessons.
Current membership must be shown and redeemed each time the discount is applied.
About Guitar Lessons Albany
Guitar Lessons Albany helps local people to learn or improve their guitar playing skills in person at a local studio.
Specialising in contemporary guitar for both acoustic and electric guitar, Guitar Lessons Albany teaches;
Little Kids 6-8 years old
Young Strummers 9-15 years old
Late teens/adults 15 – senior age
This offer is only available to Local Advantage members.