Contact this business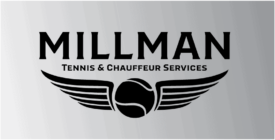 Local Advantage Exclusive Offer
10% off Private Tennis Lessons
10% off Chauffeur Services
Offer Conditions
Not to be used in conjunction with any other offer. Subject to availability.
About Millman Tennis & Chauffeur Services
Brad Millman is now available for all your chauffeuring needs. Whether you're looking to be guided on a wine tour or be driven to a Perth sporting event, Brad will look after you and your group.
Private Tennis Coaching is available for all ages and ability levels. Lessons are conducted in Marybrook and Eagle Bay, and at certain times in Yallingup Siding, Dunsborough and Busselton.
This offer is only available to Local Advantage members.